Robot vacuum cleaner is one kind of cleaning equipment, adopting rechargeable batteries, using microcomputer intelligent control. And automatic cleaning and vacuuming, mopping, sterilization, timing,remote control, booking cleaning, a variety of variable speed control, identity protection, a variety of automatic cleaning mode and automatic charging.
Robot Vacuum Cleaner/Intelligent & fashionable Type/HY-RC320
Intelligence clean peer, there for all to see.
This robot vacuum cleaner is a kind of AI cleaning equipment using microcomputer intelligent control, adopting rechargeable batteries which can automatically clean, vacuum and mop waste, such as paper scraps, hair, dust mites, fine dust and dirt particles. In addition the cleaner append with space isolator and stair avoidance to guarantee safety.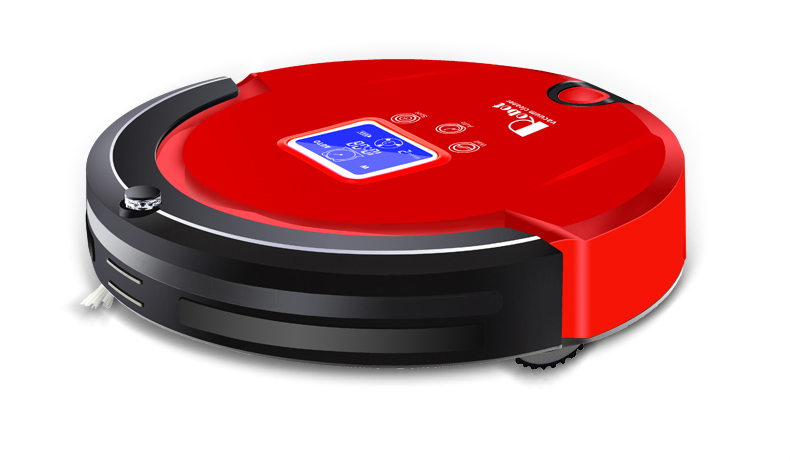 Functions and Features:
1. Automatic sweeping, cleaning, vacuuming, mopping and sterilization makes cleaning more faster and efficient.
2. Energy efficient turbine vacuuming design with strong suction make the cleaning much more effect and rolling-float brush goes deep into gap can easily reduce the bacterial growth.
3. Stair avoidance detector: Infrared fall-arrest system to automatically sense to height and turn round to avoid damage when across the stairs.
4. Rapidly automatic charging when lack of battery.
5. Easy to clean: all you need to do is press the button, and the robot will clean your floor automatically.
6. Low-noise, only about 55dB.
7. Wireless remote controller: BT2.4Ghz.
Key Parameters: