Robot vacuum cleaner is one kind of cleaning equipment, adopting rechargeable batteries, using microcomputer intelligent control. And automatic cleaning and vacuuming, mopping, sterilization, timing,remote control, booking cleaning, a variety of variable speed control, identity protection, a variety of automatic cleaning mode and automatic charging.
Robot Vacuum Cleaner/Comfort Style/HY-RC325A
Cherish the instructions, carefully build.
This robot vacuum cleaner is a kind of AI cleaning equipment using microcomputer intelligent control, adopting 33 automatic sensors and modular designs which can automatically clean, vacuum and mop waste, such as paper scraps, hair, dust mites, fine dust and dirt particles. In addition the cleaner append with fault self-check function to make quite easy to use.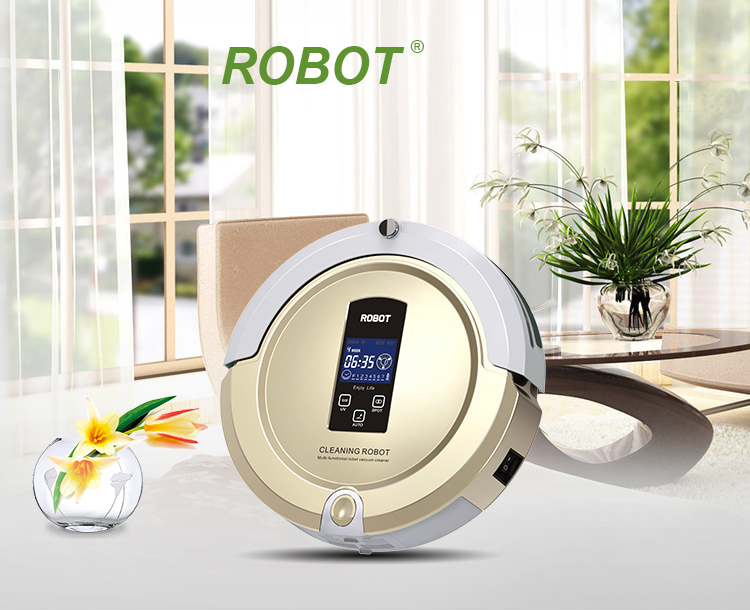 Functions and Features:
1. Automatic sweeping, cleaning, vacuuming, mopping and sterilization make cleaning more
faster and efficient.
2. About 10 humanization designs for your available choice.
3. Intelligent chip imported from European, possesses high logical judgment ability to guarantee
simulated manual cleaning rate can be reached at 99%.
4. Easy way to upgrade and maintain since the machine append with 49 self-check functions.
5. Available cleaning areas for your option to fit different size house.
6. Space isolator: virtual wall system which can block the cleaner from entering off-limit areas.
7. Rapidly automatic charging when lack of battery.
8. Anti-collision system: Infrared technology imported from Italy can
9. Automatically sense to objects and turn round to avoid damage.
10. Clean on time to make your life more easy once you timing the cleaner.
11. Easy to clean: all you need to do is press the button, and the robot will clean your floor
automatically.
12. Low-noise, only about 55dB.
13. Wireless remote controller:BT2.4Ghz.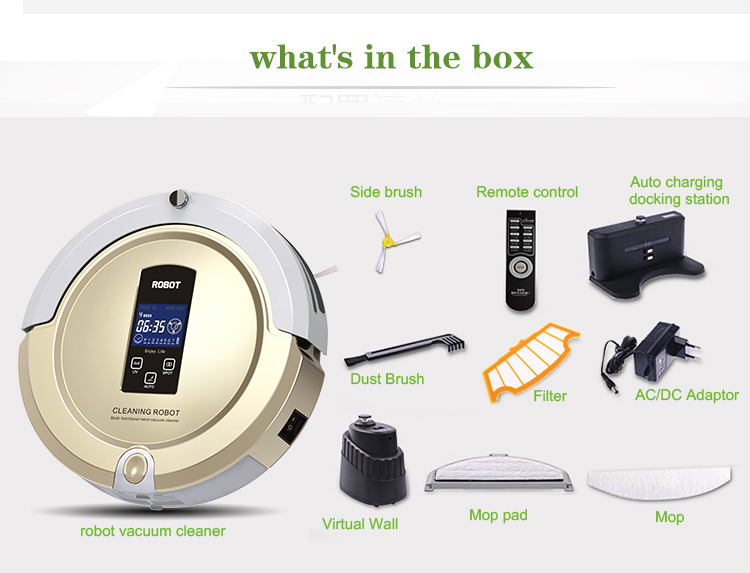 Key Parameters: